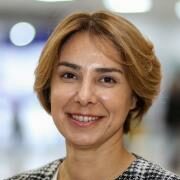 Ozgul Keles
Istanbul Technical University, Turkey
Prof. Dr. Ozgul Keles has received her BSc. Degree from the Metallurgical and Materials Engineering Department of İstanbul Technical University in 1993. She has completed her MSc. degree while working at Mita Kalıp ve Döküm Sanayi A.Ş. as a process engineer. She has a PhD. degree in Materials Science at New Mexico Tech, USA . She has been doing research on aluminum alloys, thin film coatings, lithium ion battery electrodes and quality& innovation culture management since she joined to ITU in 2007 after her occupation in Assan Aluminum as a Researh and Development Manager. She undertook the position of Vice Chair upon receiving her Associate Professorship in 2010 and kept the managing position until 2013. She has worked as a visiting researcher in Argonne National Laboratory between May-October 2011 and May – October 2016 with a primary objective of lithium ion batteries. As of June 2017, she is a full Professor in Metallurgical and Materials Engineering department in Istanbul Technical University. Her lecture responsibilities include, Materials Science, Design and Material Selection, Quality Engineering, Problem Solving Techniques and Innovation Culture Management, Design and Project Management, Energy Materials, and Design of Experiment.
During the educational studies and academic career, she has managed research projects on aluminum alloy casting, coatings and electrodes for lithium ion batteries. She has been working on Lithium Ion batteries in the development of anode, cathode and seperators since 2009. She is the president of Battery Group in OTEP (Automotive Technology Platform). She has been involved with a prestigious group in winning RD100 award on "Super Hard and Slick Coating" in 2009. She has more than 100 publications, 3 books, 2 patents.  She has 3 trademarks on a models innovated. One of which is on Building Innovation Culture in Organizations called: IValue7: Culture of Innovation. She has implemented this model to a die cast aluminum producer in Turkey (Mita Kalıp ve Döküm San. A.Ş.). The model has been digitilazed. She has been working as a member of ISO/TC 279 WG3 ISO56008 Committe Member since 2020.
The other model and trademark is Corporate Bussiness Wellness, this model aims to meausure and evalute business welness in all of their operations. She has also another model called Dynamic Enterprise Risk Management (DERMAN). This model focusses on making dynamic risk management in corporations. This model is also tested in one of the aluminum company. She is a volunteer in MUDEK (Engineering Education Evalutiaion Commitee) and ABET (American Board of Engineering Committe and ISO 279 mirror board for ISO56008. She is the head of Battery Group at OTEP (Automotive Technology Platform).